Wheat futures are higher overnight and settling back to red values prior to the morning break as new starts to surface that Ukraine Grain Deal is set to be extended.  No official confirmation yet.
Chic July following higher KC and Mpls July despite talk of higher US SRW crop and lower export demand.  KC July is higher after annual KC wheat crop tour
Corn volume exploded overnight as both old and new crop contracts edged back towards lows, as the USDA sees a massive U.S. crop.  Wheat remains reluctant to re-test recent lows with Russia still threatening.
South Korea's KFA bought 68k tonnes of corn from either South America or South Africa in a private deal yesterday, at $259/tonne C&F for October.
Importers from the Philippines issued a tender for 40k tonnes of feed wheat for July shipment, with a deadline set for this morning.
Ukraine's Ag Ministry is expecting a record spring wheat planted area of 285,000 hectares (704k acres), with planting progress ahead of last year and most of that area already seeded.  Overall grain planted acreage and production is still seen down sharply year over year due to Russian occupation.
The first day of the Wheat Quality Council Tour found northern Kansas HRWW yields averaging 29.8 bushels per acre, the worst average yield on day one since at least 2003, down from 39.5 bpa last year and the 45.4 bpa five year average.  The tour heads to SW KS today.  Separately, state wheat associations estimated Colorado wheat output at 54 mbu, up from 35.8 mbu last year and above the USDA's May estimate at 49.5 mbu, while Nebraska wheat came in at 30 mbu, up from 26.2 mbu LY but below the 33 mbu USDA
FranceAgriMer cut their 2022/23 (July-June) French soft wheat export (outside the European Union) estimate for the second month in a row, from 10.4 to 10.3 MMT, with exports inside the Union down slightly as well (from 6.43 to 6.39 MMT), and ending stocks up from 2.61 to 2.72 MMT.
Argentina's Buenos Aires Grains Exchange yesterday estimated 2023/24 wheat production at 18 MMT, up 45% from last season's 12.4 MMT despite reduced planted acreage estimates for some areas due to continued dryness.
European Commission data yesterday showed cumulative soft wheat exports since July 1 at 27.17 MMT, up 12% from last year's 24.33 MMT pace; top wheat destinations include Morocco at 4.2 MMT, Algeria at 3.8 MMT, and Nigeria at 2.3 MMT.  E.U. corn imports of 23.57 MMT are up 65% from last season's 14.26 MMT pace; 56% of that (13.1 MMT) has come from Ukraine, with 34% (7.9 MMT) sourced from Brazil.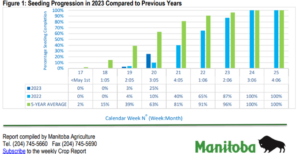 Mpls wheat +1
KC wheat +4
Chic wheat -11
Matif wheat -4
Canola +1
Rapeseed -6
Soybeans -12
Soybean oil -32
Crude +93
Corn -13
CAD +10