StoneX (not sure which Merchant) delivered 25 contracts to SG Americas (assumed Viterra)
Open interest at 1200 contracts
Wheat's weakness is tied to the unchanging situation in the Black Sea and what appears to be an improving weather picture for Winter Wheat in the S/SW Plains
Also talk about the EU being close to reaching a deal with Ukraine's 5 neighboring countries to export grain added to weakness
Although US SRW is the cheapest FOB Offer, US HRW is still overpriced
A Ukrainian source said Black Sea grain export talks are set for tomorrow, with all parties reportedly involved; however, Russia's foreign ministry replied that they had no information about such a meeting.
A senior Ukraine Ag Ministry official said 2023/24 (July-June) grain exports could fall to around 26 MMT, only around half this season's levels, with the harvest seen at 44 MMT, down from 53 MMT in 2022 (and a record 86 MMT in 2021).  They did leave output unchanged for '23/24 despite poor weather, and around a 10% reduction in corn acreage compared to initial estimates.
March USDA total soybean crush came in at 198.0 million bushels, up from 173.9 mbu in Feb, the 197.3 mbu trade estimate, and 192.9 mbu last March.  It is a record for the month, behind only 198.2 mbu in Dec 2021 as the highest ever for any month of the year.
Corn used for ethanol of 438 mln bu was up from 400 mln last month but below 453 mln a year ago. DDGs produced were 1.703 million short tons, up from 1.561 mln in Feb but below 1.877 mln LY.
US corn planting progress rose from 14% to 26% this week, double last year's pace and right in line with the five year average; corn emergence doubled from 3% to 6%, up from 3% LY and the 5% 5YA.
Soybean planting rose ten points to 19%, up from 7% LY and the 11% 5YA.
Spring wheat planting rose from 5% to 12% done, down from 18% LY and the 22% 5YA, with emergence there at 2%, up from 1% last week but behind 5% LY and the 6% 5YA.
Winter wheat heading rose from 18% to 25% as of Sunday night, up from 21% LY and the 23% 5YA.
Winter wheat ratings rose two points this week to 28% good/excellent, up from 27% LY but below the 45% 5YA.
Jordan is seeking 120k tonnes of optional origin milling wheat today, with no results yet reported but seven trading companies making offers.
Egypt's GASC is seeking wheat in an international tender closing today, for shipment dates between June 10 and July 20, FOB Offers below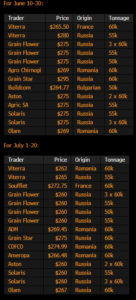 Mpls wheat -3
KC wheat -3
Chic wheat -5
Matif wheat -7
Canola +10
Rapeseed +4
Soybeans +8
Soybean oil +59
Crude -95
Corn -1
CAD -28