No US markets today due to US Memorial Day
Rapeseed markets under abnormal pressure from waste biodiesel
FEDIOL, the vegetable oil and protein meal industry, draws attention to acute market developments due to massive increases of imported biodiesel which lead to devastating consequences for the Europe based feedstock up to EU farm level.  Imports of biofuels, classified as waste based are taking place at such scale, that it has led to important disturbances in the EU markets for rapeseed methyl ester, and as a consequence also in the rapeseed and rapeseed oil markets.
Over the last 5 months, prices for rapeseed oil have dropped significantly by over 30 % to 800 €/ton, driving down physical rapeseed prices for spot delivery from 625 €/ton to 410 €/ton over the same period.  Also, futures prices for new rapeseed crop, have declined from about 600 € per ton early January 2023 to levels of about 400 € per ton by mid-May 2023.  This will not only impact rapeseed farmers' revenue, but also future planting decisions.
Another example of what end users do to fight high prices.
As restaurants in China re-open after the rolling back of Covid restrictions, the country's importing more vegetable oil used for cooking and baking from Russia.
Purchases of Russian edible oil, mostly sunflower and rapeseed oil, made up 25% of total imports by China in the first four months, up from 13% a year earlier.
The combined share of Malaysia and Indonesia, top exporters of palm oil, eased to 53% from 55%.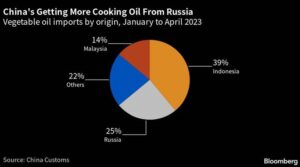 Matif wheat -2
Canola +-1
Rapeseed -5
Crude -50
CAD +8