KC wheat lead the wheats lower yesterday on lower crop ratings and continued short covering
Still plenty of uncertainty over the Ukraine export corridor
No deliveries again yesterday against the March canola contract, open interest still at 2,718 contracts or 54,360mt.  The longs are dug in and dragging this out to the end.Yesterday's May cano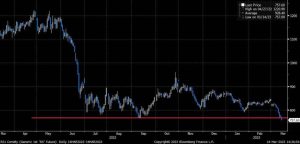 Yesterday's May canola close, broke through a hard line, next stop lower…..
The Dow Jones is down over 500 points at the time of writing.
EU soft wheat exports totaled 21.54 MMT from July 1, 2022 to March 12, 2023.  This is higher than the same week in 2021/22 at 19.84 MMT.  EU barley exports totaled 4.28 MMT vs. 6.03 MMT the prior marketing year and corn imports are at 18.99 MMT, much more than the same week in 2021/22 at 6.03 MMT.
U.S. exporters sold 612 TMT of corn for delivery to China in the 2022/23 marketing year.
CPI numbers released on Tuesday showed consumer prices 6% higher in February 2022 vs. February 2021, down from 6.4% year over year in January.  Prices increased 0.4% from January to February.  The 40 year high was set in June at 9.1% year over year.
The U.S. government is guaranteeing all deposits at Silicon Valley Bank and Signature Bank.  President Biden says he will ask federal regulators and Congress to tighten rules on banks to lessen the chance of failure.  Companies like Etsy and Roku had deposits in SVB.
Russia downed a U.S. military drone in international airspace on Tuesday.
On Tuesday, US senators introduced a bipartisan bill to allow nationwide sales of gasoline with a higher blend of ethanol (E-15) all year.
CBOT March Deliveries: corn—55 contract, soybean oil—144 contracts, soybean meal—1 contract, Chicago wheat—39 contracts
Tyson Foods will shut down two chicken plants on May 12.  The plants are in Glen Allen, Virginia and Van Buren, Arkansas.
The CFTC is working to catch up on missed CFTC reports.  The report dated February 28, 2023 was released on Tuesday.  Corn managed money futures + options traders lessened their net long position by a whopping 147,293 contracts to a net long 68,635 contracts on February 28.  The producer/merchant category increased by 136,613 to a net short position of, 267,972 contracts.  The change was associated with a 28 cent drop in spot price.
Soybean traders in the managed money category shed almost 60,000 contracts in the week ending February 28 landing their net position at a net long 129,610 contracts.  The producer/merchant category purchased 28,494 contracts pegging their net short position at 197,130 contracts.
According to Reuters, China is battling African Swine Fever again.  Cases started appearing again after the Lunar New Year holiday.
Mpls wheat +3
KC wheat +4
Chic wheat +3
Matif wheat +1
Canola -5
Rapeseed -1
Soybeans -6
Soybean oil -73
Crude -265
Corn +3
CAD -37