MB Crop Report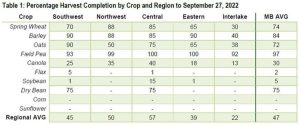 CBOT wheat rebounds on Putin comments
Wheat futures settled midrange overnight +13.50 for WZ as comments from Putin over the grain corridor added risk premium back in to the market.
The Russian President reiterated Ukraine wheat was going pass the poorest countries, describing it as a 'swindle'.
Matif also enjoyed a higher session +4.25 for the Dec contract and momentarily making new monthly highs during the day's trade.
Putin also commented Russia is set to harvest a record 100mmt of wheat with the country already passing the milestone the week ending 26 September and 101.3mmt already harvested at around 95% complete.
Aussie FOB prices were a little softer yesterday with WA APW for Jan at high $350s although CFR SEA values remained around $380-385/mt.
Corn and soybeans posted solid overnight trade volume but it's wheat that's holding up the complex this morning with commodities overall still facing massive headwinds from that surging USD. Grain exports are still flowing out of the Black Sea region but the trade remains on edge as the war continues
Importers from the Philippines have tendered for 45-50k tonnes each of feed wheat and feed barley, for Jan-Feb-March shipment.
Algeria has issued an international tender for a nominal 50k tonnes of wheat.
Argentina's Ag Ministry reported farmer sales of the 2021/22 soybean crop at 65%, behind last year with sales slowing into the end of September when preferential exchange rates expire.  Corn sales for 2021/22 stand at 67%, up from 62% at this point last year.
U.S. Ag Secretary Vilsack yesterday said talks with Mexico are continuing regarding their looming GMO corn ban; Mexican officials seem to be doubling down on the decree that phases out GMO corn and glyphosate by 2024.
European Commission data showed cumulative soft wheat exports since July 1 at 8.80 MMT, up from 8.75 MMT through Sept 25 last year; corn imports of 6.65 MMT are up from last year's 3.67 MMT pace.
Brazilian grain exporting association Anec yesterday estimated September soybean exports at 3.82 MMT, down from 4.15 MMT seen previously, with corn at 7.13 MMT, down from 7.62 MMT last week.  BRZ meal exports of 2.01 MMT are down from last week's 2.225 MMT estimate as well.
Mpls wheat +10
KC wheat +14
Chic wheat +14
Matif wheat +3
Canola +2
Rapeseed +3
Soybeans -1
Soybean oil -69
Crude +94
Corn +2
CAD -4