Canola came in lower than the estimates.  If the trade believed that, I would think that the Jan/Mar spread would have ran back up, no change on the spread (+2.4) since the report was published
Spring wheat came in right in the middle of the estimates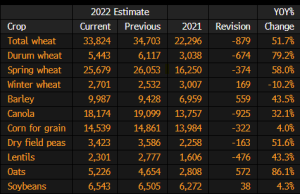 Canola, rapeseed, soybeans and soybean oil got smacked yesterday as spec longs bail hard on the EPA's proposal for Bio-diesel that was quite disappointing as it only slightly raises the biomass-based diesel blending mandate slightly over the next three years, rising from this year's 2.76 billion gallons to 2.82 billion in 2023, 2.89 billion in 2024 and 2.95 billion gallons on 2025.  Some will argue this is mostly a moot point, though, as biodiesel production in 2022 is already expected to exceed 3.0 billion gallons, above the blending proposal for 2025 and supported by the incentives included in the Inflation Reduction Act.  On the other hand, though, the proposed levels essentially eliminate the "guarantee" of market ideas for a potential multi-billion gallon increase in biodiesel (including renewable diesel) production over the coming years heavily as discussed in the market of late, but supplying a floor for blending instead.  Demand and profitability appear likely to be the driving factors for biodiesel in the coming years rather than government mandated blending levels.  January, March and May soybean oil closed limit down, December being in delivery has no limit, closed 689 points or 6.89 cents/lb.
Russia export prices are near 320 vs US SRW 344, on a FOB Basis
Importers in Thailand reportedly bought around 123k tonnes of feed wheat yesterday from Australia, at $349/tonne C&F for both Jan and June shipment.
Algeria bought 500kmt Russian milling wheat at 355, $40 below US HRW on a CFR basis
French exporters are reporting massive wheat volumes leaving the Dunkirk port, including anywhere from 400-700k tonnes sent to China in recent weeks
StoneX Brazil raised their 2022/23 soybean production estimate from 154.35 to 155.0 MMT (due to small increase in plantings), with total corn production up from 129.9 to 130.3 MMT thanks to a slight gain in second-crop output.
Private analysts Datagro pegged the '22/23 Brazil soy crop at 153.3 MMT, up 21% year over year due to around a 4% increase in planted acreage.
Brazil reported November soybean exports at 2.64 MMT, up from 2.59 MMT a year ago, with corn exports at 6.06 MMT, up from 2.39 MMT last year.
The B.A. Exchange has the '22/23 Argentine wheat crop at 12.4 MMT, but is warning of further reductions due to lower than expected yields during harvest.  The crop was initially estimated at 20.5 MMT in May.  Harvest progress stands at 23% this week, vs 45% last year.  Argentine soy planting hit 29% done, down 17% from last year, with corn planting reaching just over 25%.
Ukraine's Ag Ministry reported cumulative grain exports since July 1 at 18.1 MMT, down just under 30% from last year's pace.
Mpls wheat -9
KC wheat -21
Chic wheat -14
Matif wheat -3
Canola +8
Rapeseed -5
Soybeans -1
Soybean oil -236
Crude -17
Corn -4
CAD -23